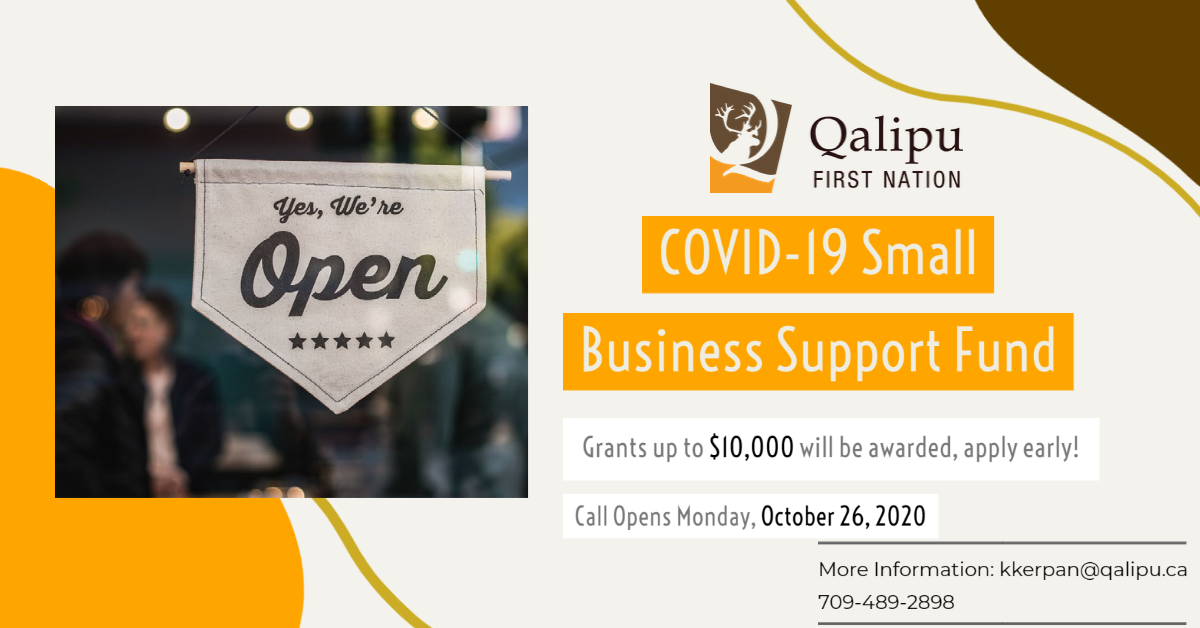 Qalipu First Nation is pleased to announce $150,000 in funds received from Indigenous Services Canada to support small member-owned businesses that have been impacted by COVID-19. We will be supporting these businesses through the following grant program. Completed applications can be sent to kkerpan@qalipu.ca on or after October 26, 2020. Please note, applications sent before that date will be returned.
COVID-19 Small Business Support Fund Application
Budget Template (Excel File)
Project Eligibility
To be eligible for funding businesses must identify and describe a project/expense for which you need funding assistance.  The project/expenses must be specific to helping your business recover from COVID-19 impacts.  Funding can not be used as revenue lost during the COVID-19 pandemic.
To be eligible for funding, applicants must declare that:
The business has been in operation for at least one calendar year
The business has been solvent, financially viable, and not declared bankrupt prior to COVID-19 disruptions
The business currently is and expects it will continue to operate with a reduction in revenues over the coming months as a result of COVID-19
The financial support will help prevent layoffs, bankruptcy, or permanent closure
They have not received any other nonrepayable COVID-19 business funding. Ex: Federal relief from Canadian government, ITAC Stimulus Grant.
Eligible Businesses
Eligibility for this program is limited to small businesses owned by members of Qalipu First Nation.  A valid Indian Registration number must be included within your application. Businesses must be a sole proprietorship, incorporated entity, or a family-owned microbusiness with minimal staff.
Assessment process
Applications will be reviewed in the order they are received. They will be screened for eligibility, using the criteria above, before proceeding to an assessment to determine the amount of eligible funding.
Decisions will be shared with applicants as they become available. Applicants who are unable to clearly demonstrate that they meet all eligibility requirements will be declined.
At any time during the intake and assessment process, a Qalipu representative may contact the applicant for additional information, including missing or incomplete documentation. Delays in responding to requests for additional information within 5 business days may result in a delayed or declined decision.
Funding Available
There are limited funds available and therefore the funding amount for any one applicant cannot exceed $10,000.  Please note that an offer less than the full requested amount may be considered.