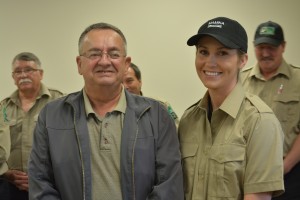 June 16, 2016, Corner Brook—Chief Brendan Mitchell of the Qalipu First Nation today announced an enhancement in funding for the Aboriginal Fisheries Strategy (AFS) to support the hiring of two additional Aboriginal Fishery Guardians in the central region. This was an important achievement for the new Chief, who at the start of his term approached the Department of Fisheries and Oceans (DFO) regarding the need for greater representation on central rivers, and to secure enhanced funding for AFS which had not seen an increase in nearly twenty years.
Chief Mitchell addressed the group of ten Guardians who were gathered along with DFO representatives and Qalipu Natural Resources (QNR) staff, in Corner Brook today for refresher training as the team begins their working season.
"The Aboriginal Fisheries Strategy is a very special program for us at Qalipu. Conservation is so important to all of us in the province, and your presence on our rivers helps prevent poaching and encourages sustainable use of our resources for future generations. I have a lot of respect for the work that you all do. This is why it was so important to me, not only to continue this program, but also to pursue expansion of it. I'm pleased to share with you all today that, after some negotiation, DFO has come through with additional funding to support the hiring of one additional Guardian in the central region."
Chief Mitchell went on to say that for the safety of the Guardians who spend a lot of time working in and around water, it is best that they work in pairs of two. He noted that QNR will fund a second new position in Central to allow for that. Representation will now consist of six Guardians in western Newfoundland, and six in Central.
In addition to enforcement patrols, the Guardians collect scientific data that is fed into the Natural Resource division for analysis and reporting. For reliable planning, reporting, and understanding of our environment, raw data is essential. Data collected each year provides the possibility for long term monitoring, indicating changes over time. A number of QNR and MAMKA projects were made possible this year by the involvement of the AFS Guardians. In particular, projects pertaining to American eel, fresh water habitat obstruction removal, Invasive Species and research concerning Species at Risk.
The new Aboriginal Fishery Guardian Trainee positions are now listed on Qalipu.ca. For more information, please contact Jonathan Strickland, Manager of the Qalipu Natural Resource division by email at jstrickland@qalipu.ca