Join in the 3rd Annual Youth Gathering
November 26

-

November 28
Event Navigation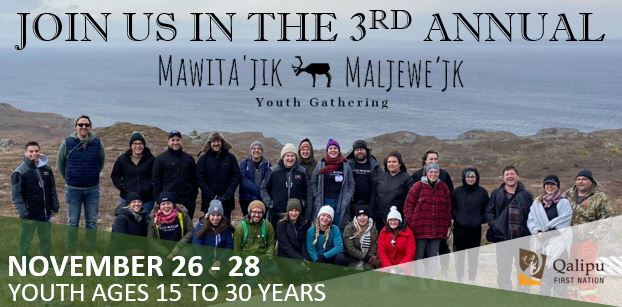 Qalipu First Nation Youth Network is pleased to announce their third annual youth gathering, Mawita'jik Maljewe'jk [ma-we-dah-jek mal-ja-wesk]. The gathering is open to both status and non-status youth and will focus on connecting youth with elders through cultural teachings; hearing the issues and concerns of youth delegates and; guiding youth to form resolutions to impact change.
Date: November 26th -28th, 2021
Location: Bishops Falls, Newfoundland at Max Simms Camp in Central
Details: The event will include traditional ceremony, teachings, roundtables focused on learning and leadership, drumming, singing and plenty of opportunity to network and enjoy time outside around the campfire.
Requirements: For ages15-30 years. You must be vaccinated under the current provincial mandate unless you are exempt and have a doctors note.
Register now: https://docs.google.com/forms/d/e/1FAIpQLScn9dpxapjl5IweXFcMa1hPdzwqEAMNOqpFaOGMIe7cnBhfCQ/viewform?fbclid=IwAR0XcP5-RIzWk3AS9n_-OD7DZF7VZwM0RyRhwV24WeY5frKclJbqSVpFDVM