Phyllis Cooper is an Elder from Stephenville. She's a talented Silver Feather Artist, a dedicated volunteer with the Newfoundland Aboriginal Women's Network, and is a community member well known for living the grandfather teachings of Respect, Honesty, Humility, Courage, Truth Wisdom and Love; the pillars of walking a good path.
At the Table with Terry
Phyllis was nominated for the Community Leaders segment of the Maw-pemita'jik Qalipu'k newsletter by Terry Muise. Terry and I sat down for a cup of tea and a chat about the nomination. He had many kind words for his dear friend Phyllis.
"Phyllis is a real sweetheart," he said, "she is what I would call a true Elder. She walks the talk; she lives the seven grandfather teachings."
Terry added that Phyllis swears by the barter system and explained how important this is to uphold the culture.
"Phyllis knows that trading allows us to honour the unique gifts and talents of all people. We each trade what we have to offer; we share the gifts creator has given us." He said.
Terry's granddaughter, Trinity Lee, has been sitting at the table listening to her grandfather share why he's nominated Phyllis and decides to speak up.
"I remember Phyllis."
Trinity attended gatherings with Phyllis as one of the youth participants with NAWN's project Elders and Youth Breaking the Silence on Mental Health. Phyllis is one of the guiding Elders with that project and Terry noted she is known for being great with children.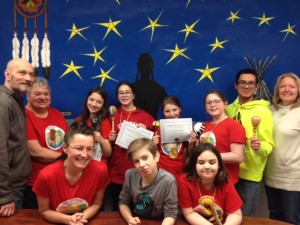 When I asked Trinity what stands out in her memory about Phyllis, she thought for a moment and said, "She was silent but outgoing at the same time."
Trinity explained that Phyllis was always there for you, participating fully in whatever was going on, but not making a fuss about herself or anything else.
You can tell Terry is proud of his granddaughter's observation of Phyllis, and we share a knowing look about our hope for the youth who will lead tomorrow. Before we finish our chat, Terry suggested I speak with Candace Simon to get more details about Phyllis.
Candace Cannot Say Enough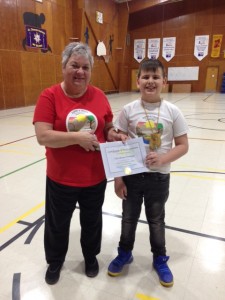 "I've known Phyllis since I was little, I used to hang out with her kids. Phyllis was an awesome mom."
This mom next door would be a constant and positive presence in Candaces Simon's life.
Candace shared, "I got involved in the Indigenous movement in Newfoundland about twenty years ago and Phyllis has been on the scene a lot longer than that. She also spent many years in Nunavut helping women in crisis, she must have seen so much. Her heart is huge."
Fairness and justice are important to Phyllis, Candace shared.
She said, "She doesn't conform to anything or anyone. She will defend the underdog and will speak on behalf of someone who doesn't have a voice. There are no backdoors with her, either. She is honest, courageous and so kind. A truly genuine person."
Candace also noted that Phyllis is a strong woman and Elder who knows the land.
Phyllis and Life on the Land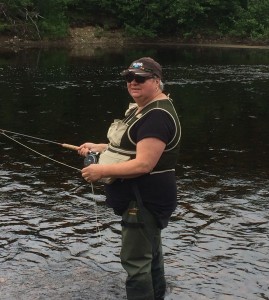 Phyllis shared some details about her love of the land and how important it is to pass this appreciation on to the next generation. She's a mother of five, grandmother of ten, and great-grandmother of three and Phyllis says she enjoys sharing nature with them.
"I'm teaching my grandchildren how to salmon fish. My granddaughter Kaleigh got her first salmon a few years ago while I took her fishing. She was over the moon! Shilo is interested in going moose hunting with me next month. We have six granddaughters and four grandsons, and the girls love to be out in nature as much as the boys. I think it's a very healthy lifestyle that keeps them grounded."
Of all the outdoor pursuits, fishing is Phyllis' favourite.
"Fishing is my passion; I find it very relaxing. When I'm at the cabin I go trout fishing every night, I bring the fish back to some elders I know who can't get out fishing anymore but love to eat them. My grandchildren love to trout fish also, they catch them for our friends who are so thankful for them. We also pick berries to freeze for winter, grow a few of our own veggies. I want my grandchildren to know the old ways, to live off what the creator provided for us, to learn to share with others and care about each other. I think if you do that, you will be a much happier person and be more content with your life."
Thank you for your contribution to our community, Phyllis. Keep up the great work.
---
Story by Alison White (awhite@qalipu.ca), on behalf of Qalipu First Nation.