National Aboriginal Day – Corner Brook
June 19, 2017

-

June 24, 2017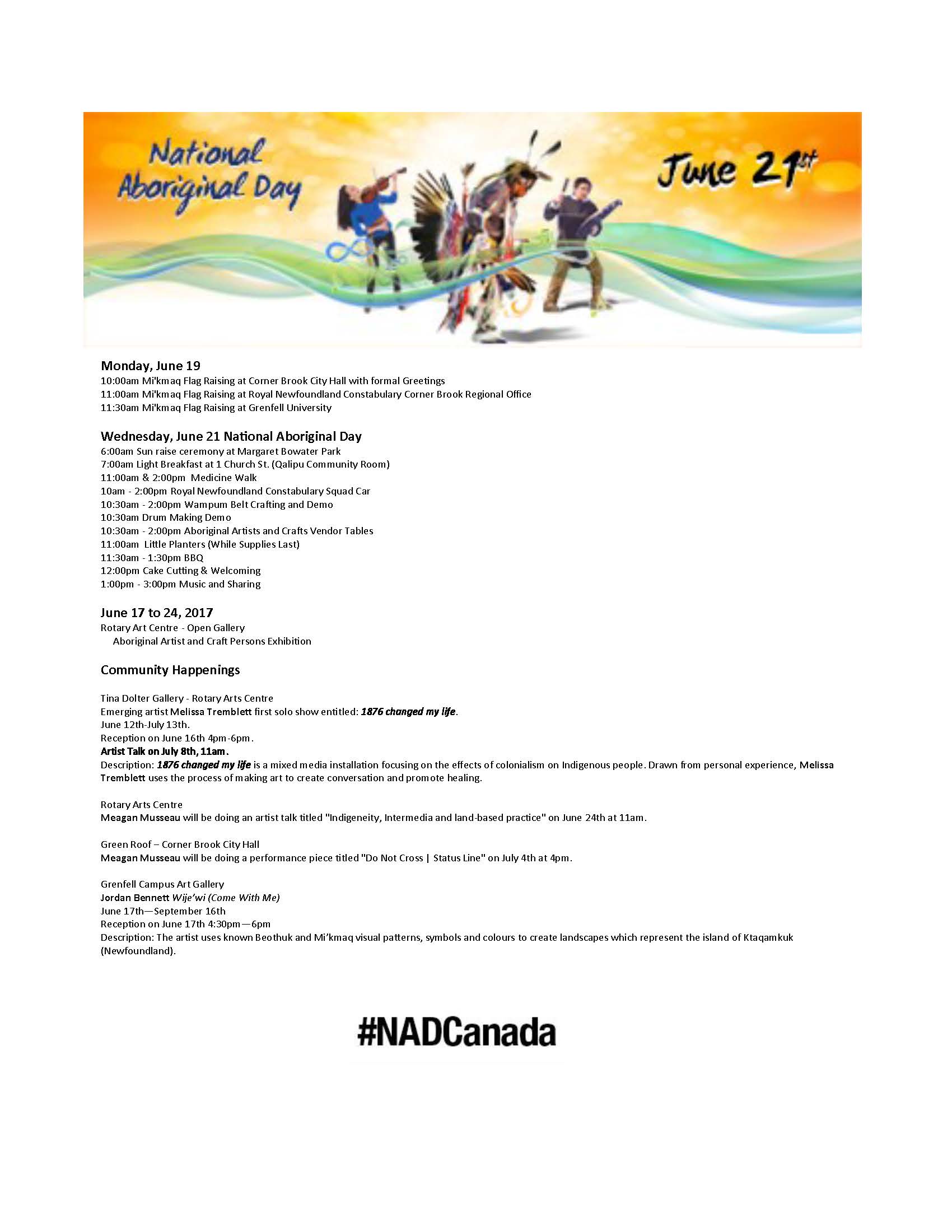 Monday, June 19
10:00am Mi'kmaq Flag Raising at Corner Brook City Hall with formal Greetings
11:00am Mi'kmaq Flag Raising at Royal Newfoundland Constabulary Corner Brook Regional Office
11:30am Mi'kmaq Flag Raising at Grenfell University
Wednesday, June 21 National Aboriginal Day
6:00am Sun raise ceremony at Margaret Bowater Park
7:00am Light Breakfast at 1 Church St. (Qalipu Community Room)
11:00am & 2:00pm Medicine Walk
10am – 2:00pm Royal Newfoundland Constabulary Squad Car
10:30am – 2:00pm Wampum Belt Crafting and Demo
10:30am Drum Making Demo
10:30am – 2:00pm Aboriginal Artists and Crafts Vendor Tables
11:00am Little Planters (While Supplies Last)
11:30am – 1:30pm BBQ
12:00pm Cake Cutting & Welcoming
1:00pm – 3:00pm Music and Sharing
June 17 to 24, 2017
Rotary Art Centre – Open Gallery
Aboriginal Artist and Craft Persons Exhibition
Community Happenings
Tina Dolter Gallery – Rotary Arts Centre
Emerging artist Melissa Tremblett first solo show entitled: 1876 changed my life.
June 12th-July 13th.
Reception on June 16th 4pm-6pm.
Artist Talk on July 8th, 11am.
Description: 1876 changed my life is a mixed media installation focusing on the effects of colonialism on Indigenous people. Drawn from personal experience, Melissa Tremblett uses the process of making art to create conversation and promote healing.
Rotary Arts Centre
Meagan Musseau will be doing an artist talk titled "Indigeneity, Intermedia and land-based practice" on June 24th at 11am.
Green Roof – Corner Brook City Hall
Meagan Musseau will be doing a performance piece titled "Do Not Cross | Status Line" on July 4th at 4pm.
Grenfell Campus Art Gallery
Jordan Bennett Wije'wi (Come With Me)
June 17th—September 16th
Reception on June 17th 4:30pm—6pm
Description: The artist uses known Beothuk and Mi'kmaq visual patterns, symbols and colours to create landscapes which represent the island of Ktaqamkuk (Newfoundland).