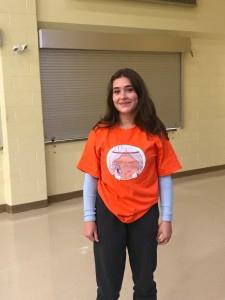 On Friday, October 21 Chief Brendan Mitchell and representatives from the Qalipu First Nation visited Corner Brook Intermediate to present awards to miss Kali Gill, a grade 9 student who was the winner of this years' logo contest for the National Day of Truth and Reconciliation.  This day, observed on September 30, is a day to recognize the terrible legacy of Canada's residential school system, commemorate residential school Survivors, and remember the thousands of Indigenous children lost to this system.
The logo contest was open to children from kindergarten to grade 12 and invited students to create artwork that represents what Truth and Reconciliation means to them.  Kali's winning design, which will be featured on orange shirts sold at Qalipu offices in advance of the next National Day of Truth and Reconciliation, won her the top prize of $250, a swag bag filled with cultural items and a $500 donation to her school's breakfast program.
Chief Mitchell remarked that these events are particularly significant to youth, who will be instrumental in forging the path forward toward reconciliation by fostering, "…. the spirit of mutual respect and positive change."
At the event, Principal Peter Burt announced the school has plans to immortalize Kali's design on the school's wall as a part of their commitment to diversity, inclusion, and acceptance.
Congratulations to Kali and gratitude all those who entered this year's competition.