Due to an influx of calls to our Electoral Officer, Carol Lahey surrounding the upcoming Qalipu Election we would like to reshare previously accessible information that has been posed at www.qalipu.ca/qalipu-election-2021/, over our Social Media platforms, weekly newsletters, and radio/news advertising. A voters information package will be delivered to all members via postage mail and/or email IF you already have this information entered on your GINU Membership Profile [Click here to check your GINU Profile https://mala.qalipu.ca/ginu/login.aspx ]
Here is a summary video of important voter information:
Here is a written summary of Voter Information:
Election Day: October 22, 2021
Ballots will be cast by telephone (landline or cell) OR through online access

This form of electronic balloting was majority voted from your 2018 election referendum. This allows further accessibility to Qalipu Members who reside outside of the province or the country.

Election Window: October 14th through October 22nd

Voting window opens at 8:00am on the 14th
You can vote at ANYTIME (24rs a day)
Voting will end 8:00pm on the 22nd

Helpline Opening October 12th through 22nd

Helpline will be open daily 8:00am to 7:00pm on October 12th to 21st
On October 22nd the helpline will be open 8:00am to 8:00pm

Qualifications to vote:

18 years or older and a registered member of Qalipu First Nation by October 22, 2021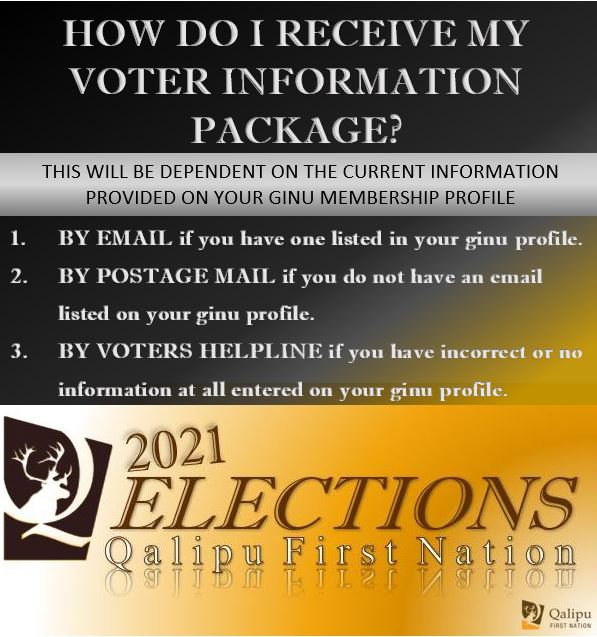 Note: Your GINU Membership profile must have your current address and/or email address for you to receive a voters PIN. Although there will be a helpline available to aid in retrieving a PIN we advise members to update your GINU Profile information as soon as possible: https://mala.qalipu.ca/ginu/login.aspx
OR call 709-634-4010, please leave a voicemail stating your name and phone number. Call backs may not be immediate but please be patient with this process.
A full voters list can be accessed here: https://qalipu.ca/qalipu/wp-content/uploads/2021/02/Voters-List.pdf
If your name is highlight in Red it could mean one of the following

Missing your mailing and/or civic address

Or the registered address is out of country and not applying an electoral ward to your profile

Missing your phone number and/or email address
Or you may have already updated your information by logging in or speaking to one of our staff but the newest updated voters list is not yet available [please check the updated date stated in the top right corner of the page i.e. "Updated: 2021-09-25"

Casting your Ballot (via telephone or through online access that will be provided in your voters information package with your voting PIN number)

You will cast a ballot for Chief, Vice-Chief, and Ward Councillor (unless your ward councillor won by acclamation)
You will also be prompted to the 2021 Referendum Vote which states:

Are you in favour of amending Section 29.1 Tenure of Office, of the Custom Rules Governing Qalipu Mi'kmaq First Nation Band Elections from its current stated three-year term to a four-year term in office for an elected Chief & Council?
If the majority vote is "yes," to change to a four-year term, the changes will come into effect during the next election in 2024. Which we will then see the 2024 Chief and Council hold a term until 2028.

Electoral Officer, Carol Lahey 709-630-7678 or clahey@qalipu.ca