With sadness we announce her passing

Bernadette Margaret Hanlon (Bernie)
October 17, 1954-September 14, 2014
Bernie as she was known to staff, Board of Directors of the FNI and Council of the Qalipu Mi'kmaq First Nation was employed with the organizations from July 6, 1996 to April 2012 when she had to finish working due to her illness.   Bernie worked out of the Grand Falls-Windsor office as a Client Relationship Officer.   Over the course of her employment she assisted in excess of a thousand students work their way through post-secondary education.   It was truly a blessing to have worked with Bernie as she was a great lady and a good friend to all that had contact with her. Bernie was a very dedicated employee/co-worker, who always gave 100% to the best of her ability. Bernie always went above and beyond for many of her students and tried to help in any way possible. In addition to her great work ethics, Bernie continuously gave to others, she was known to provide many baked treats and meals to co-workers, community group functions and board of directors, these actions cannot help but touch the hearts of all. Bernie struggled with her health for a very long time, however; her dedication to the organization didn't stop. There are many stories that we could relay of Bernie calling the offices trying to help clients from her hospital bed. She will truly be missed by all at Qalipu. Our condolences certainly are extended to both of her children, Cassie and John, her grand-children, her sisters Margaret, Barbara and Christine, and her brother Gerald. May the memories of her good will for everyone, help you in the days of mourning.   God Bless.
 Annual General Meeting 2014

Qalipu Mi'kmaq First Nation Band held our second Annual General Meeting in Corner Brook on July 6th, 2014. With over 135 Members in attendance, the meeting was informative with Work Force Qalipu and Service Qalipu presenting an overview of their program activities. The Finance Department presented the Consolidated Financial Statements for the Fiscal year 2014.
Members were given the opportunity to ask questions relating to activities of Qalipu and the Enrolment process. Questions that were asked related to the topic of Secure Cards, Education & Training, Finances, Taxation, Culture and Non Insured Health Benefits, and Enrolment.
You can view a copy of the Annual Report here and a copy of the Consolidated Financial Statements here.

Latest News
Qalipu Donation to Canadian Diabetes Association (Published August 18, 2014)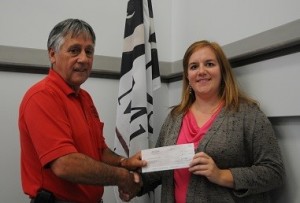 Each year the Qalipu Mi'kmaq First Nation Band raises money for select Charities of Choice as a way to give back to the community. Qalipu Staff chose the Canadian Diabetes Association as one of the Charities for 2013-2014. Staff from Qalipu office locations in Glenwood, Grand Falls-Windsor, Corner Brook, and St. George's participated in this meaningful effort. Fundraising consisted of summer weekly barbeques, recycling collection, potluck dinners, etc.  Through the dedicated efforts of the Qalipu's staff, a donation of $3000 was presented to Ms. Leanne Madore, a representative of the Canadian Diabetes Association from Western Health in Corner Brook, NL, by Chief Brendan Sheppard. The Qalipu Mi'kmaq First Nation Band would like to thank everyone who supported the fundraising events and a special thank you to the staff for making this donation to the Canadian Diabetes Association possible.
Qalipu Donation to ALS Society of Newfoundland and Labrador (Published August 18, 2014)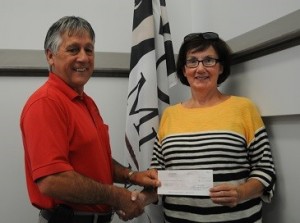 Each year the Qalipu Mi'kmaq First Nation Band raises money for select Charities of Choice as a way to give back to the community. The Qalipu Band Council chose the ALS Society as one of the Charities for 2013-2014. This fundraiser was carried out by Qalipu staff at the request of council in addition to staff's own fundraiser for the Canadian Diabetes Association. All of the profits from the sale of promotional items were donated to the ALS Society.  These promotional items included Qalipu Mi'kmaq First Nation Band branded shirts, hats, flags, coasters, calendars, and tote bags. Qalipu staff have these items for sale at all four of our office locations in Glenwood, Grand Falls-Windsor, Corner Brook, and St. George's. Qalipu's staff was able to raise $1200 for the ALS Society. The donation was presented to Cheryl Power of the ALS Society of Newfoundland Labrador, by Chief Brendan Sheppard. The Qalipu Mi'kmaq First Nation Band would like to thank all those who purchased our promotional items which made it possible to give this donation to the ALS Society.
Nominate a Young Aboriginal leader for 2014 (Published August 12, 2014)
Recognizing youth for their achievements is a great way to build self-esteem; and more importantly, establishes role models so others can see that their goals are tangible. Understanding how important this is for our youth, the Congress of Aboriginal Peoples' National Youth Council (NYC) established this unique awards program to honour and show appreciation to both achievements and efforts.  Read
An Elder's Gathering – Authenticity Symposium (Published August 8, 2014)
The Qalipu Mi'kmaq First Nation Band is seeking members that are willing to share their knowledge in the following areas: Traditional knowledge of ceremony and traditions, knowledge of traditional medicines, artisans, tool makers, crafters, hunters, fishers, trappers, gatherers, traditional singers and drummers, traditional storytellers, historians and language knowledge. The Qalipu Mi'kmaq First Nation band will be hosting this event on August 26th – 27th, 2014 in Stephenville, NL. For more information click here.
Atlantic Aboriginal Entrepreneur Awards Show (Published August 7, 2014)
The Ulnooweg Development Group Inc. is hosting the 7th Atlantic Aboriginal Entrepreneur Awards Show in Membertou, Nova Scotia on September 16, 2014.  We invite members to nominate Aboriginal Entrepreneurs for their achievements throughout the year. As entrepreneurs, these individuals and families play a vital role in building stronger Aboriginal communities for future generations.  The deadline for nominations is August 22nd.
The following categories are available for nominations:
Economic Development Officer of the Year
Aboriginal Government Enterprise of the Year
Start Up Business of the Year (under two years)
Youth Entrepreneur of the Year
Cottage Craft Business of the Year
Female Entrepreneur of the Year
Male Entrepreneur of the Year
Life Time Achievement Award (male and female, published prior to show)
 Click Here for Nomination Form
Qalipu and Newfoundland and Labrador English School District Partnership (Published June 4, 2014)

The Newfoundland and Labrador English School District is pleased to welcome Qalipu Mi'kmaq First Nation Band in a new partnership for the delivery of the Residential Outdoor Education Program."Qalipu Mi'kmaq First Nation is pleased to be providing funding to support the program including a cultural interpreter position to deliver Mi'kmaq teachings and other cultural activities. These teachings introduce students to the long and rich history of the Mi'kmaq people that includes unique cultural, social, political and spiritual traditions, and values of respect and caring for the environment. The Band seeks to promote the involvement of youth and Elders through these cultural activities," says Chief Brendan Sheppard, Chief of the Qalipu Mi'kmaq First Nation Band.The curriculum-based program, which started in 1997 as a collaboration with Parks Canada, is based at Killdevil Camp in Gros Morne National Park and provides every student in the Western Region with an opportunity to participate in an intensive 2.5 day learning adventure that brings their learning into the great outdoors."We are pleased to welcome Qalipu as an additional partner. Aside from greatly enriching the program experience, aboriginal culture and history are a big part of the Grade 5 social studies curriculum. Students really connect with this cultural learning – particularly for the many who have Mi'kmaq ancestry," says Margaret McKeon, Outdoor Education coordinator with the Newfoundland and Labrador English School District.Approximately 900 students, 200 parent chaperones and 40 teachers will participate this year at Killdevil and at a similar program in Red Bay.Mitch Blanchard, Qalipu Mi'kmaq First Nation – 634-8046;
mblanchard@qalipu.ca

Margaret McKeon, NLESD Western – 632-0668;
margaret.mckeon@wnlsd.ca

Events
Overnight Camping Experience – Parks Canada (Published August 15, 2014)
Saturday, August 16th, Parks Canada will hosting an aboriginal overnight camping experience at Lomond camp ground. Would you like to learn some Mi'kmaq traditions and teachings? Join us for an overnight experience led by our Aboriginal interpreter. You'll also learn camping skills, like how to set up a tent and cook outdoors.  Read
Charity Barbeque – Every Thursday (Published July 30, 2014)
Every Thursday until September 25th, the Qalipu Mi'kmaq First Nation Band will be sponsoring barbeques on the Majestic Lawn from 11:45 until 1:00, weather permitting.  All proceeds from the barbeques will be donated to our staff charity of choice.  This year, we have chosen the Janeway.

Members and applicants who have questions regarding their membership application and the enrolment process, please Click Here for our Enrolment FAQ's or call 1-800-561-2266