Merry Christmas!  'Tis the Season to Give Back
This year, the staff of the Qalipu Mi'kmaq First Nation Band are collecting donations for various charities and we're asking for your help! Each office has selected a local cause to focus their fundraising efforts on for this Christmas season. The charities are as follows:
Corner Brook Office: Transition House
Grand-Falls Office: Food Bank in connection with the Salvation Army
St. Georges:  Church Food Hamper
Glenwood:The Food Bank (in connection with the Glenwood Fire Department)
Qalipu will be accepting donations at each office through-out the month of December.
For more details on items accepted, please contact your local Qalipu Office. Help us raise some funds and help those in need this holiday season. Tax receipts are available for monetary donations to organizations with charitable status.

Message From the Chief
Message From The Chief (Published December 4, 2014)
Merry Christmas to all and a sincere wish for a healthy 2015. This past year has been a very busy year for Qalipu and we view it as a successful one. As seen at our Annual General Meeting in Corner Brook, members appear to be pleased with the service they are receiving. To date we have had an incredibly productive and exciting year in our Education and Training division so far this past year we have supported over 1,060 clients in education, training and employment opportunities. We have taken steps in 2014 to ensure that even more members receive support in the future by focusing our funding dollars beginning in 2015, specifically on tuition and books. In 2014, we launched our new Strategic Partnership Office to provide leadership in managing the Band's partnering activities. This office is dedicated to developing partnerships to aid both our Band and its members.
We continue to work hard to create opportunities for our membership to develop their careers and themselves and we look forward to 2015. In operations we have hired a new Director, we take this opportunity to welcome Robert Dicks to our team. As part of continuous improvement to serve Qalipu members, we will begin processing medical transportation claims at the Corner Brook office for the Central ward members only as of January 1, 2015. This is the beginning of a pilot project to hopefully administer all claims for medical transportation of Qalipu members. We will keep you informed as we take on other wards throughout the year. Our goal is to have all medical transportation claims of all members of all wards living in the Atlantic Canada processed by Qalipu.
Membership cards of children that were registered when the band was first formed are beginning to reach an expiry date. Please view the information on Qalipu website, under Programs & Services, Status Indian Card section, Expiry of SCIS cards for children.
In this past year the Community Economic Development department was renamed Service Qalipu. The new department combined the service delivery model for our economic and social programs under one roof, including Community Economic Development, Health and Social, Culture and Heritage, and Natural Resources.
There has been considerable progress made in reaching the targets outlined in our Strategic Plan. The Band has placed much effort towards creating business opportunities for its members to capitalize on the Maritime Link Project. This was highlighted by the signing of a Socio-Economic Agreement with Emera in September.
2014 was a busy year with many cultural and resource projects including the documenting of our culture into an Aboriginal Traditional Knowledge Directory and completing an update to the 2002 Traditional Use Study.
As a result of the excellent fundraising efforts of Qalipu staff, we were able to provide donations to the Diabetes Assoc., Janeway and ALS(Lou Gehrigs). Some Qalipu staff in the different regions will also be volunteering to assist different charitable groups during the Christmas season. Take the time to visit our website to see how you might be able to support the Band in helping the needy in our communities.
Qalipu is here to serve you and we welcome any ideas that you have to offer.
Have a safe an enjoyable Christmas and a Happy New Year.
Chief Brendan Sheppard

Latest News
Public Notice (Published December 22, 2014)
To better serve our members Qalipu Mi'kmaq First Nation Band will begin processing Medical Transportation Benefit claims for its members residing in Atlantic Canada. Effective January 1, 2015 Qalipu will be accepting medical transportation claims from registered members of the central electoral wards of Gander Bay, Glenwood and Exploits and who are also living in the province of Newfoundland and Labrador.  During the winter of 2015 Qalipu will continue to perfect the operations of processing the central electoral ward member's claims.   In April 2015, a further notice will be provided regarding Qalipu processing claims from all other members living within Atlantic Canada.  All other claims such as dental, prescription drugs, vision and mental health must continue to be submitted to Health Canada.
For further information:
Click here to view the Qalipu Medical Transportation Q&A's
or call Qalipu  at 1-855-675-5743
or NIHB Atlantic Regional Office 1-800-565-3294
The Qalipu Artisans and Crafters Residency Program (Published December 16, 2014)
The Qalipu Mi'kmaq First Nation is pleased to support the development of Mi'kmaq Art and Indigenous Craft with the launch of a new pilot project: The Qalipu Artisans and Crafters Residency Program. Qalipu has partnered with the Corner Brook Rotary Arts Centre to provide an emerging Mi'kmaq artist or craft person the opportunity to utilize space of a professional art studio in the new Corner Brook Rotary Arts Centre. The new multi-purpose arts centre includes a 100-seat theatre, art gallery, artists' studios and exhibition space.  Read
Expiry of SCIS Cards for Children (Published December 3, 2014)
Please note that all SCIS (Secure Certificate of Indian Status) cards have a set date to which they will expire. This occurs on all members' birth dates, with adults expiring in a 10 year time frame, and children's in a 3 year time frame.
With this being said, it should be noted that the majority of children's SCIS cards will be expiring in 2015. Parents must re-apply for a new card for their children to ensure they have a card to present to avail of all services offered by Health Canada.
To apply for a renewal SCIS card parents must apply for a new card within 6 months of the card expiring, and complete the following:
The expiring SCIS Card will have to be returned with the application to the SCIS National Processing Unit
Complete a new SCIS Parent or Guardian Application. If members are not receiving assistance from one of our offices they will have to fill out a Guarantor Declaration form as well
New passport photos must be included. If members need the Guarantor then that person must sign the back of the photo that is stamped,
Photocopies of parents ID's, both front and back (this could include your Provincial Driver's License and Health Cards, example MCP). Again, if Guarantor is used then they must sign the photocopies as true copies of your original IDs.
Parents will not have to include their children's original long form birth certificate as there is already a certified copy with the SCIS National Processing Unit.
All completed applications must then be sent to:
SCIS National Processing Unit
10 Wellington Street
Gatineau, QC
K1A 0H4
If you have any questions or concerns, or just need assistance with filling out the application, please feel free to contact Charmaine Bath, Indian Registration Administrator, at (709) 679-2142, or by email at cbath@qalipu.ca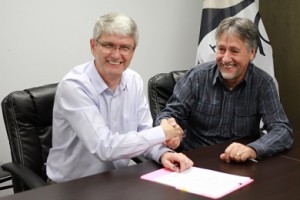 Qalipu Mi'kmaq First Nations Band finalize a Socio-Economic Agreement for the Maritime Link Project
October 08, 2014 – Corner Brook, NL – The Qalipu Mi'kmaq First Nation Band (QMFNB) is pleased to announce the finalization of a Socio-Economic Agreement for the Maritime Link Project. This agreement builds on the positive relationship that has developed with Emera Newfoundland and Labrador over the past two years.
The agreement includes provisions to follow through on commitments made during the federal Environmental Assessment process to consider current use of land and resources for traditional purposes and monitoring of potential interactions, as well as promote training, employment and business opportunities for members of Newfoundland's Qalipu Mi'kmaq.
"Our agreement with Emera Newfoundland and Labrador is a significant milestone for the Qalipu Mi'kmaq First Nations Band and demonstrates the relationship we have fostered," said Chief Brendan Sheppard, "Through the development of the Maritime Link Project and the local opportunities that arise from it, we can now strengthen the Qalipu Strategic Plan under Economic Development and Community Economic Development plans."
Qalipu Mi'kmaq First Nations Band is encouraging all members to update their profiles in the GINU database, to ensure access to opportunities associated with the Maritime Link.
"We are proud to say that this agreement is built on our company's guiding principles of mutual respect, early engagement, openness, and building long term relationships." said Rick Janega, CEO and President, Emera Newfoundland & Labrador. "This project provides significant regional economic benefit and this agreement helps support the project being on time and on budget through increased access to local resource capacity."
Emera Newfoundland & Labrador is designing, constructing and will own the 500 MW +/- 200kV Maritime Link Project. This is a high voltage direct current (HVDC) transmission electric project that will connect the island of Newfoundland and Nova Scotia for the first time. The project includes two 170 kilometre subsea cables and approximately 400 kilometres of overhead transmission line.
News and Updates (Published October 27, 2014)
As part of our continuing effort to keep members of the Qalipu Mi'kmaq First Nation current on the latest news and events we have compiled a News and Updates email to be sent out to our members periodically.  If you would like to receive this email with recent news and updates, please make sure you have your email address filled out in the Ginu Database.  Click here to read the latest News and updates that was sent out to members on October 27, 2014.   Read
Qalipu Donation to Canadian Diabetes Association (Published August 18, 2014)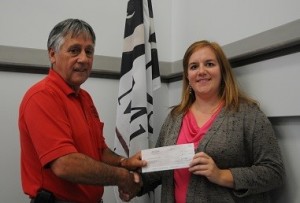 Each year the Qalipu Mi'kmaq First Nation Band raises money for select Charities of Choice as a way to give back to the community. Qalipu Staff chose the Canadian Diabetes Association as one of the Charities for 2013-2014. Staff from Qalipu office locations in Glenwood, Grand Falls-Windsor, Corner Brook, and St. George's participated in this meaningful effort. Fundraising consisted of summer weekly barbeques, recycling collection, potluck dinners, etc.  Through the dedicated efforts of the Qalipu's staff, a donation of $3000 was presented to Ms. Leanne Madore, a representative of the Canadian Diabetes Association from Western Health in Corner Brook, NL, by Chief Brendan Sheppard. The Qalipu Mi'kmaq First Nation Band would like to thank everyone who supported the fundraising events and a special thank you to the staff for making this donation to the Canadian Diabetes Association possible.
Qalipu Donation to ALS Society of Newfoundland and Labrador (Published August 18, 2014)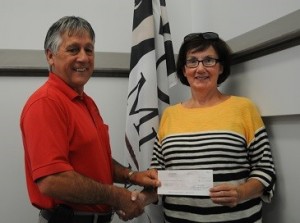 Each year the Qalipu Mi'kmaq First Nation Band raises money for select Charities of Choice as a way to give back to the community. The Qalipu Band Council chose the ALS Society as one of the Charities for 2013-2014. This fundraiser was carried out by Qalipu staff at the request of council in addition to staff's own fundraiser for the Canadian Diabetes Association. All of the profits from the sale of promotional items were donated to the ALS Society.  These promotional items included Qalipu Mi'kmaq First Nation Band branded shirts, hats, flags, coasters, calendars, and tote bags. Qalipu staff have these items for sale at all four of our office locations in Glenwood, Grand Falls-Windsor, Corner Brook, and St. George's. Qalipu's staff was able to raise $1200 for the ALS Society. The donation was presented to Cheryl Power of the ALS Society of Newfoundland Labrador, by Chief Brendan Sheppard. The Qalipu Mi'kmaq First Nation Band would like to thank all those who purchased our promotional items which made it possible to give this donation to the ALS Society.

Events
Aboriginal Arts & Stories Youth Contest (Published December 1, 2014)
Aboriginal Arts & Stories is a national educational initiative that invites First Nations, Métis and Inuit youth (ages 11-29) to submit creative writing or two-dimensional artwork about their culture and heritage. Participants have a chance to win up to $2,000; a trip to the annual awards ceremony, and have their work published or exhibited. Finalists are selected by a jury comprised of celebrated Aboriginal writers and artists, including Shirley Moorhouse, Kent Monkman, Maxine Noel, Lee Maracle, and Drew Hayden Taylor, among many others.
The contest is an opportunity for youth to share stories of their families, communities, ancestors, as well as personal stories, with an audience across the country. Now in its 11th year, more than 2,000 youth have participated in the contest to date. This year's deadline is March 31, 2015. Visit www.our-story.ca for full guidelines, prizing information, previous winning submissions, and to submit an entry.
Aboriginal Arts & Stories is a program of Historica Canada, a non-profit organization dedicated to promoting Canadian history and heritage.
Summit on Health Care Public Forums (Published December 1, 2014)
The Government of Newfoundland and Labrador is assessing the delivery of primary health care services in our province, and they want your input. Primary health care is usually the first point of contact with the health care system and includes activities such as visiting your family doctor, discussing a prescription with a pharmacist, or speaking with a registered nurse through the HealthLine. Primary health care has an important role to play in all areas of health care including mental health and addictions, dementia care, healthy living, aging and chronic disease management.  Read
Elder Traditional Teachings Symposium (Published November 27, 2014)
The Qalipu Mi'kmaq First Nation Band is hosting a one day Elder Traditional Teachings Symposium for the Central Newfoundland Membership on Wednesday, December 10 from 8:30 – 4:30 at the Mount Peyton Hotel in Grand Falls. This Symposium will focus on sharing and documenting of knowledge, reinforcing culture networks, promotion of leadership and mentoring of youth within their respective communities and the promotion of volunteering. The Symposium will assist participants with:  The learning of basic Traditional Teachings and the development of future Cultural Circles and resources. Seating is limited, snacks and lunch will be included. A travel subsidy is also available. Please provide your name, address, phone number, and a short explanation as to why this symposium interests you. Please inform us of any allergies or medical conditions.
Please contact Michelle Matthews, Cultural Researcher, by email at mmatthews@qalipu.ca or by phone, 709-634-0996 extension 227.
Deadline to apply: December 5, 2014 @ 12:00 PM
WISE NL Aboriginal Youth Conference (Published October 2, 2014)
The Women in Science and Engineering NL (WISE NL) Conference is for female AND male high school students who are interested in learning more about career options in science and engineering. Students will be encouraged to consider a career in these fields through professional development activities, mentoring and knowledge of the opportunities available. Students can bring this information back to their school and promote opportunities in their home communities among their peers…  Read
Click here for Application Form

Members and applicants who have questions regarding their membership application and the enrolment process, please Click Here for our Enrolment FAQ's or call 1-800-561-2266