Message from the Chief
(Published January 21, 2016)
Kwe'
I trust that each of you is withstanding the cold January weather, and finding ways to enjoy this time of year when it is often difficult to travel and get outside.
It has been a busy start to the New Year at Qalipu. On January 9th we held our first regular meeting of Council and, we are already planning for the next.  Initially we agreed to move from four meetings per year, to six. However, with the work we have before us it looks like we will surpass that goal.  Each and every member of the Council has a strong voice at the table and hopes to accomplish much on behalf of members and communities within their Wards.
Similarily, Council has committed to holding more regular town hall meetings in our nine Wards, with a minimum of two per year anticipated. I'd like to take the opportunity to bring your attention to two town hall meetings that are currently scheduled.  Councilor Gerard Alexander welcomes members of the Stephenville Ward on January 24 at 2:00 PM in the lecture hall of the main building of the College of the North Atlantic.  Councilor Brian Dicks welcomes members of the Corner Brook Ward to join him at the Corner Brook Civic Centre, Meeting Room 2, on February 23 at 7:00 PM.
I intend to participate in these meetings and hope to meet with some of you there. Any time I hear about meetings and events happening in the Qalipu community I will try my best to be there, and share those moments with you.
One of the most significant moments for me this month was attending a presentation by the National Truth and Reconciliation Committee related to Residential Schools in Canada. Hearing the report from the members of that committee, and the stories that came about, was very emotional and eye opening. I pray that the Committee's 94 recommendations will be met with serious concern by our new government and I invite all of you to pray for this with me.
Finally, I know that many of you are waiting for an update on the Enrolment process. This month I attended three days of meetings with the Enrolment Implementation Committee. An update on the enrolment process is expected to be available shortly.
Below this message you will find a link to Qalipu's monthly newsletter, Maw-pemita'jik Qalipu'k. I encourage you to read it and, stay in touch.
Wela'lioq (Thank you to all of you)
Chief Brendan Mitchell
Click here to read Maw-pemita'jik Qalipu'k monthly newsletter

Latest News
Employment Readiness Program
(Published February 12, 2016)
The Qalipu Mi'kmaq First Nation is currently seeking 18 members; both male and female, to participate in an employment readiness program for the construction sector in development projects such as the Muskrat Falls Project. This Employment Readiness Program will be held over the course of two weeks and is anticipated to begin on March 14th, 2016 and end on March 24th, 2016.
Description:
The Qalipu Mi'kmaq First Nation will be delivering an Employment Readiness Program to enhance the training level of our membership in an effort to increase their employment opportunities. The focus of this training will be core safety and workplace skills. This training will also involve a partnership with the Congress of Aboriginal Peoples.
Location:
Grand Falls, NL. A travel subsidy may be provided.
Qualifications:
Candidates must be actively seeking employment and is willing and able to work. This training initiative will have a particular emphasis on gender diversity and we aim to attract both Aboriginal men and women into this program.
Apply:
If you are interested in this opportunity, please apply with application, resume and covering letter to:                                          
Qalipu Mi'kmaq First Nation
Attention: Ms. Vickie MacDonald
3 Church Street
Corner Brook, NL A2H 2Z4
Or e-mail: workforce@qalipu.ca with subject line "Employment Readiness Program"
Deadline: Applications must be received no later than 4:00 P.M. on Monday February 29th, 2016.
Thank you to all applicants who apply; however, only candidates selected for an interview will be contacted.
Workplace Training Initiative
(Published February 10, 2016)
 Description: The Qalipu Mi'kmaq First Nation Band has funding available to deliver training modules in core safety and workplace skills which will benefit our members and provide them with the skills to contribute to employment opportunities. If you are a member who is EI eligible, who can identify as having a barrier to employment, and if you are interested in taking any of the training modules identified below, please let us know.
Confined space
Fall arrest
Traffic Control
Basic First Aid
WHIMIS
Power line Hazards
Forklift
Location: Various locations to be determined.
Qualifications: Candidates must be an EI Eligible client (currently in receipt of EI benefits or have been in receipt of EI benefits in the last 3 years) actively seeking employment and is willing and able to work.
 Apply: This training initiative may be offered over the course of two weeks and is anticipated to begin in early March. If you are interested in this opportunity, please apply with application, resume and covering letter to:
Qalipu Mi'kmaq First Nation
Attention: Ms. Judy Falle
P.O. Box 460, St. George's, NL, A0N 1Z0
Or e-mail: jfalle@qalipu.ca with subject line "Workplace Training Initiative"
Deadline: Applications must be received no later than Monday, February 19th, 2016 at 4:00 P.M. If you need assistance in completing the application, please contact Judy Falle, Client Intake Officer at (709) 647-3171.
Qalipu's Aboriginal Business Forum, Mawio'mi 2016, Now Open for Registration

(Published February 4, 2016)
We are pleased to announce the details of Qalipu's annual aboriginal business forum, Mawio'mi 2016, now celebrating five years of connecting aboriginal entrepreneurs with business opportunities in our province.
Mawio'mi 2016: Engaging Youth in Business Innovation will provide our entrepreneurs and youth delegates with the knowledge and tools to avail of the various business opportunities within the provincial economy. We will highlight the many procurement and supplier development opportunities that exist within the Hebron, Muskrat Falls and Maritime Link projects, as well as invite youth to apply innovative solutions to practical business scenarios.
This year's event will be hosted in Corner Brook at the Glynmill Inn. Registration is free for Qalipu Business Network members and is currently available online.
Exciting Opportunity for Youth at Mawio'mi 2016
(Published February 4, 2016)
Aboriginal youth aged 18-29 who are currently enrolled in post-secondary studies are eligible for sponsorship to attend Qalipu's annual Business Forum, Mawio'mi 2016: Engaging Youth in Business Innovation. This Forum aims to engage the next generation of entrepreneurs; specifically young innovators completing course work in the fields of environmental science, business, engineering and technology.
In addition to receiving free accommodations, travel subsidy and all meals, students who attend will receive a cash bursary upon completion, and will be entered to win a $500.00 scholarship. As a participating student, you can also expect to benefit from:
• An opportunity for professional development
• Receipt of a certificate of participation for your portfolio
• Networking with local businesses and major project leads
• Connecting with the aboriginal business community
• Applying your knowledge to real life business scenarios
• Developing your ability to work in a team and solve problems
Get Involved! Workshops Scheduled
(Published January 28, 2016)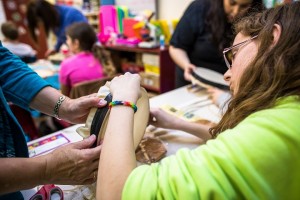 We're pleased to announce that a number of cultural and craft workshops have been scheduled in several of our communities.  Please click the link below for all the details, including an online registration application.
Qalipu Workshops 2016, click here
Maw-pemita'jik Qalipu'k January Newsletter Now Online
(Published January 21, 2016)
Maw-pemita'jik Qalipu'k is a monthly newsletter. In it, we aim to share not only the happenings of the Band but also, to help connect our dispersed communities. If you would like to give your thoughts on what you've read here, or share an upcoming community event, achievement, news item, or anything else that may be of interest to our aboriginal community, please get in touch:
Alison White
Communications Officer
Qalipu Mi'kmaq First Nation
Tel. 709-634-5163
Email awhite@qalipu.ca
Click here to view the newsletter
Qalipu Chief and Council Welcomed with Swearing in Ceremony
(Published November 24, 2015)
An election to choose Qali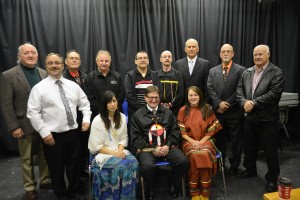 pu's governing body, the Chief and Council, takes place every three years, and was recently conducted this year on October 23. Yesterday, the group of 12 took office after a 30 day transition period.  The occasion was marked with a well-attended swearing in ceremony at the Royal Canadian Legion in Corner Brook that included a smudging ceremony, prayer, songs and a heartfelt oath of office by incoming Council members.
Newly elected Chief, Brendan Mitchell, welcomed those gathered to celebrate the first day of a new electoral term for the Band.  He praised the new Council which he says has a diverse and well-rounded background.
"We have people with a strong business background, extensive community involvement, diverse cultural teachings, and a variety of educational credentials.  This group brings a lot of experience and enthusiasm to the table.  We can't wait to get started."
He also said that he and the new Council look forward to future opportunities to gather together as they intend to achieve a high level of community involvement in the years ahead.
Each member of the Council read aloud the oath of office.
The ceremony was attended by representatives from other aboriginal organizations including Chief Mi'sel Joe of the Miawpukek First Nation, and Chief LaSaga of the Flat Bay band.
Following the swearing in ceremony the new Council went on to hold their first meeting together, at the Glynmill Inn in Corner Brook.
Qalipu Election 2015 Results
(Published October 24, 2015)
Click here to view newly elected Qalipu Chief and Council 
Click here to view end of polls (counts)
Strategic Plan Finalized
(Published October 7, 2015)
The business of Qalipu is governed within the framework of a Strategic Plan. This plan, which is renewed every five years, is developed through contributions from our core teams, Chief and Council and Band members.
Earlier this year, planning sessions were held with the front line staff who are in frequent contact with membership: Work Force Qalipu, Service Qalipu and the   Operations department.   They presented their ideas for future direction to the Chief and Council.
Chief and Council have since met to consider those ideas put forth by Qalipu staff and to spend a day prioritizing future direction for the Band, and commit to an agenda that will best serve the membership.
Members of the Band responded in record numbers to the third phase of the plan's development, a survey to identify what membership feel is the right direction for our First Nation to continue to grow and thrive.
Of some 1100 survey responses we have found some common messages that we will act on.  For example, a large percentage of membership indicated that they felt there were not enough meetings with Ward Councilors in their wards.  This issue was brought before council and all have agreed to new terms to make it a priority to hold at least one ward meeting annually.
Members also indicated not wanting to travel to Conne River to make on reserve, tax free purchases.  Qalipu has been doing research and planning on how to establish an urban reserve in one of our wards.  This has been done elsewhere in Canada and we will pursue this option diligently.
Finally, aboriginal rights was a strong topic of interest for Qalipu membership.  We have sought out a legal opinion on how to move forward to pursue aboriginal rights such as fishing, and hunting.  We have been advised that it will be a lengthy process if it is possible at all.  However, we are committed to putting in the work to get there.  Like the process of recognition which took 40 years, we will not give up on this initiative which is high on the priority list of the membership.
To view the document summarizing the five year strategic plan, click here.
The Government of Canada and the Federation of Newfoundland Indians Announce Appointment of Geoffrey Brown as Chief Appeal Master to the Qalipu Enrolment Process
(Published July 31, 2015)

The Honourable Bernard Valcourt, Minister of Aboriginal Affairs and Northern Development, and Brendan Sheppard, President of the Federation of Newfoundland Indians (FNI), today welcomed the joint appointment of Mr. Geoffrey Brown as Chief Appeal Master to the Qalipu Mi'kmaq First Nation Enrolment process. Click Here to read.
Expiry of SCIS Cards for Children
(Published December 3, 2014)
Please note that all SCIS (Secure Certificate of Indian Status) cards have a set date to which they will expire. This occurs on all members' birth dates, with adults expiring in a 10 year time frame, and children's in a 3 year time frame.
With this being said, it should be noted that the majority of children's SCIS cards will be expiring in 2015. Parents must re-apply for a new card for their children to ensure they have a card to present to avail of all services offered by Health Canada.
To apply for a renewal SCIS card parents must apply for a new card within 6 months of the card expiring, and complete the following:
The expiring SCIS Card will have to be returned with the application to the SCIS National Processing Unit
Complete a new SCIS Parent or Guardian Application. If members are not receiving assistance from one of our offices they will have to fill out a Guarantor Declaration form as well
New passport photos must be included. If members need the Guarantor then that person must sign the back of the photo that is stamped,
Photocopies of parents ID's, both front and back (this could include your Provincial Driver's License and Health Cards, example MCP). Again, if Guarantor is used then they must sign the photocopies as true copies of your original IDs.
Parents will not have to include their children's original long form birth certificate as there is already a certified copy with the SCIS National Processing Unit.
All completed applications must then be sent to:
SCIS National Processing Unit
10 Wellington Street
Gatineau, QC
K1A 0H4
Qalipu is here to help with the process of reapplication.  An SCIS Clerk, Nancy O'Connell, has been hired to take appointments at the Corner Brook and St. George's office.  Please call (709) 634-4010 or email noconnell@qalipu.ca to make an appointment.  Charmaine Bath, Indian Registration Adminisrator, will continue to assist members at the Glenwood and Grand Falls-Windsor office.  Please call (709) 679-2142 or email cbath@qalipu.ca to make an appointment.

Events

Exciting Opportunity for Youth at Mawio'mi 2016
The Qalipu Mi'kmaq First Nation is providing an opportunity for a limited number of students to attend this year's Mawio'mi Annual Business Forum. This will be an opportunity for youth learn about business, innovation, technology, engineering and environment while networking with other youth, Qalipu entrepreneurs, and industry leaders.
This forum will take place from March 9-10th, 2016 in Corner Brook, NL.
Accommodations, meals, and a travel subsidy will be provided to successful applicants. For more information and how to apply, please see attached document.
Note deadline to apply is 4PM, January 29, 2016,
For further details or questions, please contact Mitch Blanchard via email: mblanchard@qalipu.ca
For details on how to apply, click here

Members and applicants who have questions regarding their membership application and the enrolment process, please Click Here for our Enrolment FAQ's or call 1-800-561-2266