Latest News
Qalipu Chief and Council Welcomed with Swearing in Ceremony
(Published November 24, 2015)
An election to choose Qali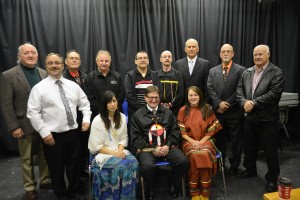 pu's governing body, the Chief and Council, takes place every three years, and was recently conducted this year on October 23. Yesterday, the group of 12 took office after a 30 day transition period.  The occasion was marked with a well-attended swearing in ceremony at the Royal Canadian Legion in Corner Brook that included a smudging ceremony, prayer, songs and a heartfelt oath of office by incoming Council members.
Newly elected Chief, Brendan Mitchell, welcomed those gathered to celebrate the first day of a new electoral term for the Band.  He praised the new Council which he says has a diverse and well-rounded background.
"We have people with a strong business background, extensive community involvement, diverse cultural teachings, and a variety of educational credentials.  This group brings a lot of experience and enthusiasm to the table.  We can't wait to get started."
He also said that he and the new Council look forward to future opportunities to gather together as they intend to achieve a high level of community involvement in the years ahead.
Each member of the Council read aloud the oath of office.
The ceremony was attended by representatives from other aboriginal organizations including Chief Mi'sel Joe of the Miawpukek First Nation, and Chief LaSaga of the Flat Bay band.
Following the swearing in ceremony the new Council went on to hold their first meeting together, at the Glynmill Inn in Corner Brook.
Maw-pemita'jik Qali'pu'k November Newsletter Now Online
(Published November 6, 2015)
Maw-pemita'jik Qali'pu'k is a monthly newsletter. In it, we aim to share not only the happenings of the Band but also, to help connect our dispersed communities. If you would like to give your thoughts on what you've read here, or share an upcoming community event, achievement, news item, or anything else that may be of interest to our aboriginal community, please get in touch:
Alison White
Marketing and Communications Coordinator
Qalipu Mi'kmaq First Nation
Tel. 709-634-5163
Email awhite@qalipu.ca
Click here to view the newsletter
Qalipu Election 2015 Results
(Published October 24, 2015)
Click here to view newly elected Qalipu Chief and Council 
Click here to view end of polls (counts)
Strategic Plan Finalized
(Published October 7, 2015)
The business of Qalipu is governed within the framework of a Strategic Plan. This plan, which is renewed every five years, is developed through contributions from our core teams, Chief and Council and Band members.
Earlier this year, planning sessions were held with the front line staff who are in frequent contact with membership: Work Force Qalipu, Service Qalipu and the   Operations department.   They presented their ideas for future direction to the Chief and Council.
Chief and Council have since met to consider those ideas put forth by Qalipu staff and to spend a day prioritizing future direction for the Band, and commit to an agenda that will best serve the membership.
Members of the Band responded in record numbers to the third phase of the plan's development, a survey to identify what membership feel is the right direction for our First Nation to continue to grow and thrive.
Of some 1100 survey responses we have found some common messages that we will act on.  For example, a large percentage of membership indicated that they felt there were not enough meetings with Ward Councilors in their wards.  This issue was brought before council and all have agreed to new terms to make it a priority to hold at least one ward meeting annually.
Members also indicated not wanting to travel to Conne River to make on reserve, tax free purchases.  Qalipu has been doing research and planning on how to establish an urban reserve in one of our wards.  This has been done elsewhere in Canada and we will pursue this option diligently.
Finally, aboriginal rights was a strong topic of interest for Qalipu membership.  We have sought out a legal opinion on how to move forward to pursue aboriginal rights such as fishing, and hunting.  We have been advised that it will be a lengthy process if it is possible at all.  However, we are committed to putting in the work to get there.  Like the process of recognition which took 40 years, we will not give up on this initiative which is high on the priority list of the membership.
To view the document summarizing the five year strategic plan, click here.
The Government of Canada and the Federation of Newfoundland Indians Announce Appointment of Geoffrey Brown as Chief Appeal Master to the Qalipu Enrolment Process
(Published July 31, 2015)

The Honourable Bernard Valcourt, Minister of Aboriginal Affairs and Northern Development, and Brendan Sheppard, President of the Federation of Newfoundland Indians (FNI), today welcomed the joint appointment of Mr. Geoffrey Brown as Chief Appeal Master to the Qalipu Mi'kmaq First Nation Enrolment process. Click Here to read.
Expiry of SCIS Cards for Children
(Published December 3, 2014)
Please note that all SCIS (Secure Certificate of Indian Status) cards have a set date to which they will expire. This occurs on all members' birth dates, with adults expiring in a 10 year time frame, and children's in a 3 year time frame.
With this being said, it should be noted that the majority of children's SCIS cards will be expiring in 2015. Parents must re-apply for a new card for their children to ensure they have a card to present to avail of all services offered by Health Canada.
To apply for a renewal SCIS card parents must apply for a new card within 6 months of the card expiring, and complete the following:
The expiring SCIS Card will have to be returned with the application to the SCIS National Processing Unit
Complete a new SCIS Parent or Guardian Application. If members are not receiving assistance from one of our offices they will have to fill out a Guarantor Declaration form as well
New passport photos must be included. If members need the Guarantor then that person must sign the back of the photo that is stamped,
Photocopies of parents ID's, both front and back (this could include your Provincial Driver's License and Health Cards, example MCP). Again, if Guarantor is used then they must sign the photocopies as true copies of your original IDs.
Parents will not have to include their children's original long form birth certificate as there is already a certified copy with the SCIS National Processing Unit.
All completed applications must then be sent to:
SCIS National Processing Unit
10 Wellington Street
Gatineau, QC
K1A 0H4
Qalipu is here to help with the process of reapplication.  An SCIS Clerk, Nancy O'Connell, has been hired to take appointments at the Corner Brook and St. George's office.  Please call (709) 634-4010 or email noconnell@qalipu.ca to make an appointment.  Charmaine Bath, Indian Registration Adminisrator, will continue to assist members at the Glenwood and Grand Falls-Windsor office.  Please call (709) 679-2142 or email cbath@qalipu.ca to make an appointment.

Events

Members and applicants who have questions regarding their membership application and the enrolment process, please Click Here for our Enrolment FAQ's or call 1-800-561-2266