Message From the Chief
Message From The Chief (Published February 27, 2015)
Kwe' members,
On behalf of the executive and ward representatives, I extend sincere greetings to all and hope that each of you is experiencing good health.
It is evident that Mother Nature feels there is a need for more snow, I guess it is a sign that the earth needs to be replenished with a supply of water to prepare for the summer months.
In using a few Mi'kmaq words obtained by the Communications Coordinator Alison White, Mawpmit'jik Qalipu'k which means 'the caribou are travelling together'.  I believe the community minded way of the caribou can help guide us, the Qalipu Mi'kmaq First Nation people, to be a strong community that works together.
In this message, I feel it is important to acknowledge the success of Qalipu to date as a result of the dedication and hard work of the CEO, directors, managers and staff of Qalipu, it is these people who make Qalipu the credible Indian Act Band we are today.
For the month of February we have a lot to share: we have some great pictures and a story on the launch of the Qalipu Cultural Foundation, a new branch of Qalipu that holds the promise of helping to connect Qalipu members with information and experiences to preserve and promote our shared heritage and history.
This month we also showcase some of the environmental stewardship work of the Qalipu Natural Resource Division, including their recent round of seminars on Species at Risk and the importance of Aboriginal Traditional Knowledge in their research.
For several initiatives, such as the development of a Tourism and Arts and Crafts Strategy, and our Traditional Use Study currently underway in the Wards of Flat Bay and Stephenville, we invite you, our members, to share your thoughts and experiences in order to help guide our organization.
Finally, this month we showcase some exciting upcoming events both ours, and those we have heard about from your community leaders.
I invite you all to read on and stay in touch.
Chief Brendan Sheppard
Click here to read our Newsletter, Mawpmita'jik Qalipu'k

Latest News
New Fishing Licenses Available (Published March 18, 2015)


Qalipu Mi'Kmaq First Nation Band would like to announce the availability of two Communal Commercial Fishing license.  License details are as follows:
Area 13A-1 License Available: Lobster, Crab, Scallop, Herring (Fixed Gear), Mackerel (Fixed Gear), Eel, Smelt, Squid, Groundfish, Bait
Area 13B-1 License Available: Lobster, Crab, Herring (Fixed Gear), Capelin (Fixed Gear), Mackerel (Fixed Gear), Squid, Welk, Groundfish, Bait
Successful applicants will be designated to fish this license by paying an annual administration fee to Qalipu Mi'Kmaq First Nation Band. The purchase and maintenance of all fishing gear is the responsibility of the designated fisherperson. The designation will be renewed annually on the basis that the fisherperson meets the following criteria:
-Member of Qalipu Mi'Kmaq First Nation Band.
-All regulations of governing agencies of these licenses are followed.
-Licenses are utilized annually.
-Administration Fees are paid on time.
Any member of Qalipu Mi'kmaq First Nation Band interested in such a designation is encouraged to print and complete this application. Printed applications are also available at St. George's and Corner Brook Qalipu offices.  Submit applications by March 26, 2015 by email, fax, or drop off to the address indicated on the application form.
Share your Thoughts by Participating in our Online Surveys (Published March 10, 2015)
Over the past couple of months you may have heard about consultation sessions happening around the island on the subject of Tourism and Arts and Crafts.   These are two areas that Qalipu has identified as significant opportunities for growth and development.
The experiences and knowledge of our members is an important contributor to the development of a Tourism Strategic Plan and an Arts and Crafts Strategic Plan.  In Stephenville, Corner Brook, Grand Falls and Gander, members came out to share their thoughts.  If you missed the opportunity, or are not living on the island, here is another chance to contribute your ideas.  Attached below are links for two surveys.  These will be available until the end of March.
Arts and Crafts Survey:   https://www.surveymonkey.com/s/QMFNartsandcrafts
Tourism Survey: https://tractconsulting.typeform.com/to/WYNCIE
If you feel there is more information you would like to share that the survey's did not capture, please email ncompanion@qalipu.ca
Make your Business Known (Published March 5, 2015)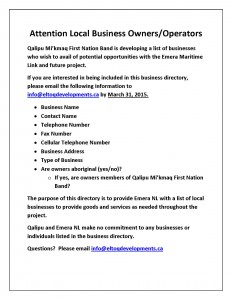 Qalipu Mi'kmaq First Nation Band is developing a list of businesses who wish to avail of potential opportunities with the Emera Maritime Link and other future projects.
If you are interested in being included in this business directory, please email the required information (see poster) to info@eltoqdevelopments.ca by March 31, 2015.
Mawpmita'jik Qalipu'k February Newsletter now available (Published February 27, 2015)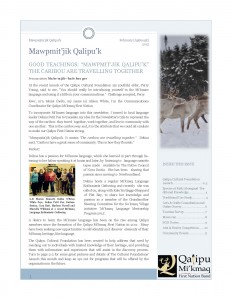 Mawpmita'jik Qalipu'k is Qalipu's monthly newsletter.  Please read to  stay tuned on program updates, upcoming events, opportunities to be involved and other information that may be of interest to our members.
Click here to read
Mawio'mi 2015 (Published February 26, 2015)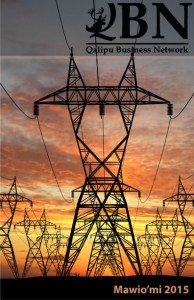 A key measure within the Qalipu Strategic Plan is the degree to which we are able to provide support to Aboriginal Entrepreneurs. One of those support tools is Mawio'mi 2015, our fourth annual business forum where we will bring our members together to network with key industry officials.
The intent of Mawio'mi 2015 is to provide our entrepreneurs with the knowledge and tools to avail of the various business opportunities that are present within the provincial economy. We will highlight the many procurement and supplier development opportunities that exist within the Hebron, Muskrat Falls and Maritime Link projects.  This year's event will be hosted in Stephenville on March 26th at the Days Inn. We are pleased to offer free registration however, space is limited.  Registration is currently available online at http://qalipu.ca/mawiomi-2015/ or by calling Nicole at (709) 634-8043.
Traditional Land Use Study (Published February 18, 2014)
Qalipu Mi'kmaq First Nation is currently updating its Traditional Land Use Study in the Flat Bay and Stephenville Wards.  During the months of February and March interviewers Alan Tait, Nina Tourette-Retieffe, Ivan White and Michelle Matthews will be collecting information about Qalipu members' knowledge of land use and food harvesting within his/her lifetime.  This will include collecting information on cultural connections to the land.
To participate in an interview, individuals must be a member of the Qalipu Band and at least 18 years of age. Some members have already been interviewed during the Traditional Land Use Study conducted by the Federation of Newfoundland Indians in 1999. However, these people will also be invited to participate again which will allow us to keep the study current.
To arrange your interview time and location please contact Michelle Matthews, Cultural Researcher and TUS Project Manager, at email mmatthews@qalipu.ca or Tel. 640-2781 or 647-1370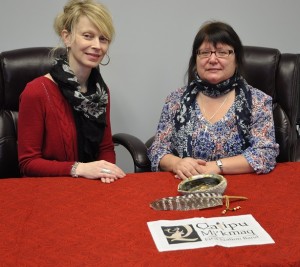 Healing Waters Project focus' on health needs of members and the importance of culture-based healing (Published January 21, 2015)
The Qalipu Mi'kmaq First Nation (QMFN) has recently launched a new initiative, Healing Waters.  This research, consultation and assessment based project should result in a greater awareness of membership needs, and how to meet those needs, in the area of health and wellness.
Health is a priority for QMFN.  In 2010, a Health Needs Assessment study of Off-Reserve Mi'Kmaq people in Western and Central Newfoundland was completed.  The study focused on communities with high concentrations of Mi'kmaq residents, and included a detailed survey on the health-related practices of Mi'kmaq individuals in those areas.  It also delved into the existing health care services available and noted areas for service improvement.   Read
Public Notice (Published December 22, 2014)
To better serve our members Qalipu Mi'kmaq First Nation Band will begin processing Medical Transportation Benefit claims for its members residing in Atlantic Canada. Effective January 1, 2015 Qalipu will be accepting medical transportation claims from registered members of the central electoral wards of Gander Bay, Glenwood and Exploits and who are also living in Atlantic Canada.  During the winter of 2015 Qalipu will continue to perfect the operations of processing the central electoral ward member's claims.   In April 2015, a further notice will be provided regarding Qalipu processing claims from all other members living within Atlantic Canada.  All other claims such as dental, prescription drugs, vision and mental health must continue to be submitted to Health Canada.   Read
The Qalipu Artisans and Crafters Residency Program (Published December 16, 2014)
The Qalipu Mi'kmaq First Nation is pleased to support the development of Mi'kmaq Art and Indigenous Craft with the launch of a new pilot project: The Qalipu Artisans and Crafters Residency Program. Qalipu has partnered with the Corner Brook Rotary Arts Centre to provide an emerging Mi'kmaq artist or craft person the opportunity to utilize space of a professional art studio in the new Corner Brook Rotary Arts Centre. The new multi-purpose arts centre includes a 100-seat theatre, art gallery, artists' studios and exhibition space.  Read
Expiry of SCIS Cards for Children (Published December 3, 2014)
Please note that all SCIS (Secure Certificate of Indian Status) cards have a set date to which they will expire. This occurs on all members' birth dates, with adults expiring in a 10 year time frame, and children's in a 3 year time frame.
With this being said, it should be noted that the majority of children's SCIS cards will be expiring in 2015. Parents must re-apply for a new card for their children to ensure they have a card to present to avail of all services offered by Health Canada.
To apply for a renewal SCIS card parents must apply for a new card within 6 months of the card expiring, and complete the following:
The expiring SCIS Card will have to be returned with the application to the SCIS National Processing Unit
Complete a new SCIS Parent or Guardian Application. If members are not receiving assistance from one of our offices they will have to fill out a Guarantor Declaration form as well
New passport photos must be included. If members need the Guarantor then that person must sign the back of the photo that is stamped,
Photocopies of parents ID's, both front and back (this could include your Provincial Driver's License and Health Cards, example MCP). Again, if Guarantor is used then they must sign the photocopies as true copies of your original IDs.
Parents will not have to include their children's original long form birth certificate as there is already a certified copy with the SCIS National Processing Unit.
All completed applications must then be sent to:
SCIS National Processing Unit
10 Wellington Street
Gatineau, QC
K1A 0H4
If you have any questions or concerns, or just need assistance with filling out the application, please feel free to contact Charmaine Bath, Indian Registration Administrator, at (709) 679-2142, or by email at cbath@qalipu.ca

Events
Aboriginal Arts & Stories Youth Contest (Published December 1, 2014)
Aboriginal Arts & Stories is a national educational initiative that invites First Nations, Métis and Inuit youth (ages 11-29) to submit creative writing or two-dimensional artwork about their culture and heritage. Participants have a chance to win up to $2,000; a trip to the annual awards ceremony, and have their work published or exhibited. Finalists are selected by a jury comprised of celebrated Aboriginal writers and artists, including Shirley Moorhouse, Kent Monkman, Maxine Noel, Lee Maracle, and Drew Hayden Taylor, among many others.
The contest is an opportunity for youth to share stories of their families, communities, ancestors, as well as personal stories, with an audience across the country. Now in its 11th year, more than 2,000 youth have participated in the contest to date. This year's deadline is March 31, 2015. Visit www.our-story.ca for full guidelines, prizing information, previous winning submissions, and to submit an entry.
Aboriginal Arts & Stories is a program of Historica Canada, a non-profit organization dedicated to promoting Canadian history and heritage.

Members and applicants who have questions regarding their membership application and the enrolment process, please Click Here for our Enrolment FAQ's or call 1-800-561-2266