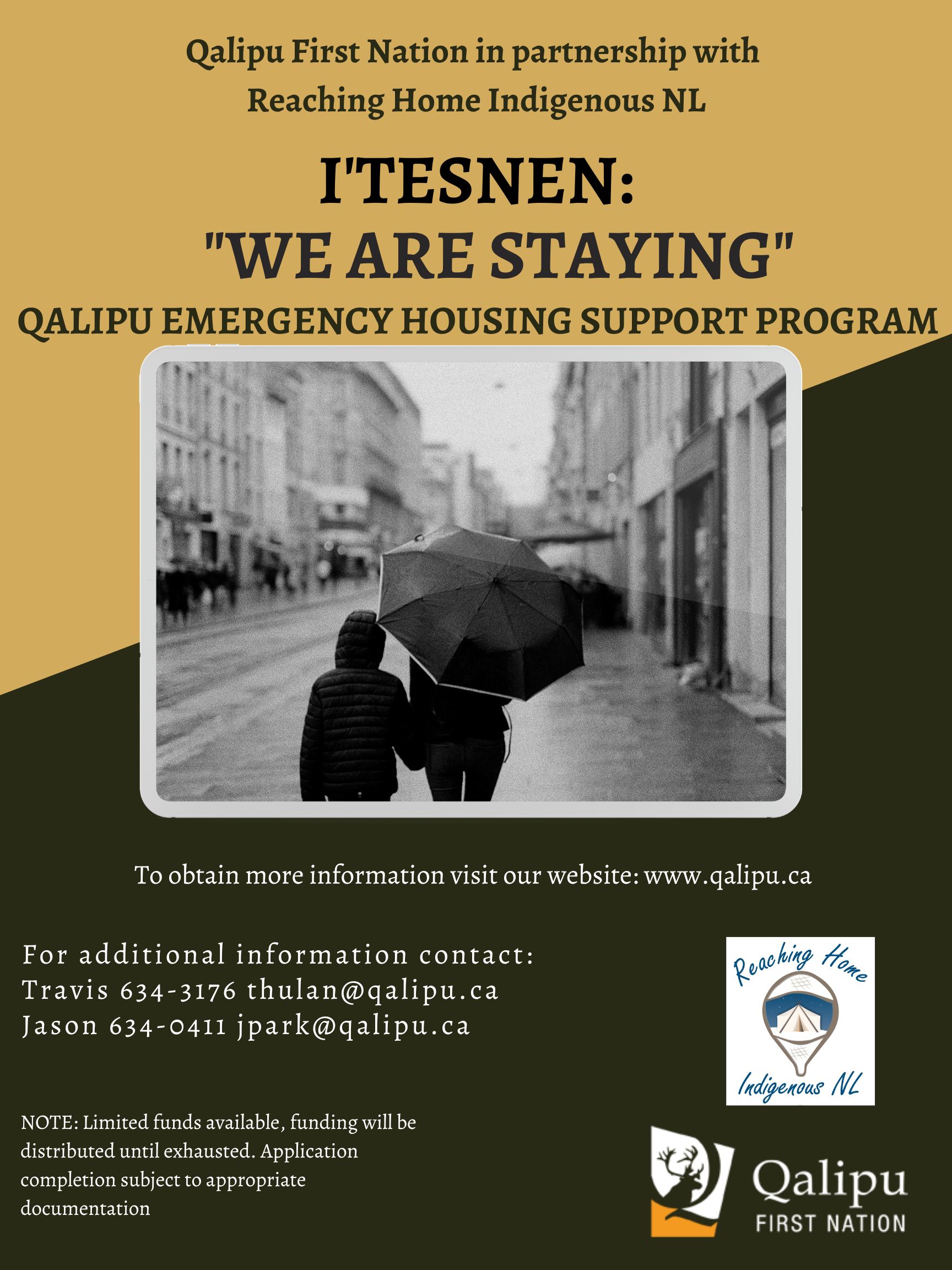 Emergency Support Application
FAQ
Introduction:
"I'tesnen: We Are Staying" Qalipu Emergency Housing Response Program aims to help prevent and reduce homelessness among our members. Existing support(s) include:
Emergency Housing Repair – Provide financial assistance (maximum $5,000 per household) to existing homeowner(s) in need of emergency repair(s) that would cause the homeowner to leave their home immediately.
Housing Set Up – Provide housing/rental startup assistance such as first month's rent and/or last month, damage deposit, and/or utilities assistance up to $2,000 per application.
Emergency Short Term Accommodations – Provide hotel placement for a maximum of ten (10) nights.
"Indigenous homelessness refers to Indigenous Peoples who are in the state of having no home due to colonization, trauma and/or whose social, cultural, economic, and political conditions place them in poverty. Having no home includes: those who alternate between shelter and unsheltered, living on the street, couch surfing, using emergency shelters, living in unaffordable, inadequate, substandard and unsafe accommodations or living without the security of tenure; anyone regardless of age, released from facilities (such as hospitals, mental health and addiction treatment centers, prisons, transition houses), fleeing unsafe homes as a result of abuse in all its definitions, and any youth transitioning from all forms of care"

– Reaching Home Indigenous NL

Program Eligibility:
Applicant/Co-Applicant must be a registered member of Qalipu First Nation
Applicant must identify as an individual who is currently homeless or at risk of becoming homeless
Applicant/Co-Applicant are required to be a resident of Newfoundland & Labrador
Applicant must NOT be currently supported by the provincial, territorial, or municipal welfare and/or rent supplement program(s)
Based on submission of required documents. Funding is limited.
Please Note: *If housing ownership is in the name of a non-member spouse or partner (co-applicant), you may still submit your application with housing ownership supporting document; however, it will be necessary to provide further documentation to support that you are a resident of the same household.
**Emergency Short Term Accommodations may be provided to non Qalipu indigenous community members who are homeless and/or at risk of becoming homeless.
Application Process:
Qalipu application collection will be based on submission date and will be processed until funds have been exhausted. All applications will be reviewed and assessed as they are submitted, based on level of emergency, amount of funding available, and in reference to the definition of Indigenous Homelessness as outlined by Reaching Homes Indigenous NL
Limit of one application per household. Duplicate applications will not be reviewed. In the event duplicate applications are received, QFN will consider the first application as the valid submission
All applications require name, accurate mailing address/street address (if different from mailing address), Band registration #, phone number and/or email address, and supporting documentation including proof of homeownership/rental agreement, and proof of combined annual income
If you have any questions or require support regarding your application, please email jpark@qalipu.ca or thulan@qalipu.ca
FOR ASSISTANCE FILLING OUT YOUR APPLICATION, PLEASE CONTACT: JASON (709) 634-0411 OR TRAVIS (709) 634-3176