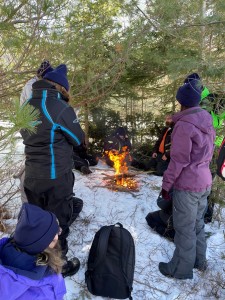 Earlier this month ten youths from across Qalipu territory gathered at Max Simms Camp along with Elders and knowledge sharers for three days of learning about life on the land.
The weekend's activities included learning about trapping, snowshoeing, survival training, storytelling and even a waltes tournament.  Terri Humphries, Manager of Culture and Community Outreach, reported that the youth were attentive and ready to learn.
"The wifi going down was the best thing that could have happened.  Suddenly none of us were checking our phones.  We were together and engaged, seeing a glimpse of life on the land as our ancestors would have known."
Terri was thankful for the community leaders who came forward to share their knowledge and skills.
"We had Jeff Butler and Brent Watkins who work for the Department of Fisheries and Oceans, but came along to share their personal experience and knowledge in trapping and on the land survival. As well as Windell Watkins and Frank Skeard who demonstrated to the youth life saving skills and the uses for items growing in nature. Councillor Charlene Combdon came to say hello and deliver a treat to the youth who were gathered in her Ward.  She ended up staying on into the evening! It was the kind of feeling you didn't want to leave."
Terri shared that Elder Muchie Bennett was also on hand for the event and spent a lot of time storytelling during the evening to the attentive youth. We were also delighted when youth wanted to drum and sing a song. One youth even showed us some Fancy Shawl dance moves along with the music.
"This is the first land camp since covid and considering the positive impact this gathering had on both youth and adult alike, we will be doing it again in the future."