Kwe',
Well, we had a day or two that felt like summer and then plenty of wind and rain! That's Newfoundland for you but I can't complain; the trees are once again covered in leaves; dandelions offer splashes of brightness and when we consider the many challenges faced by others in the world, I know that to call this place home is a blessing.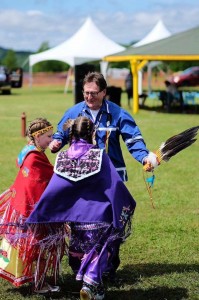 As we look forward to warmer days ahead, we can also anticipate a chance to gather with family and friends at a variety of events happening this summer.  I believe we even have enough powwows to say we have our own Newfoundland powwow trail!  There are events happening in Conne River, Flat Bay, Degrau, Burgeo and Corner Brook.
Up first is National Indigenous Peoples Day on Wednesday, June 21.  I've heard about events happening in various communities and I'm excited to celebrate this important day that celebrates the history, culture and unique contributions of Indigenous people in this country.
In Corner Brook, I invite you to meet me at the Sunrise Ceremony hosted by the Corner Brook Aboriginal Women's Association.  I look forward to that peaceful morning light and the special bonds that are formed when we stand together to give thanks for another day.
Later, we'll gather on the Majestic Lawn in front of our offices at 3 Church Street.  From 11:00 AM to 3:00 PM there will be singing, drumming, activities, and fun for the whole family.  We'll fire up the BBQ for lunch and please know that everyone is welcome.
I wish you all the best this season and look forward to seeing you soon! Have a safe and enjoyable summer.
Wela'lin
Chief Brendan
Newfoundland Powwow Trail:
July 7-9 in Conne River
July 14-16 in Flat Bay
July 22-23 in Degrau
August 4-5 in Burgeo
August 12 in Corner Brook