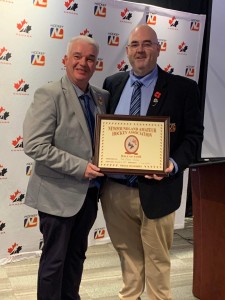 It was a humbling and proud moment for Paul Glavine when he received a phone call from Hockey NL notifying him that he was selected for induction into the Provincial Hockey Hall of Fame.  This acknowledgement by Hockey NL is the pinnacle of recognition for extraordinary achievement within the game of hockey in Newfoundland and Labrador.
"I was humbled but I was also proud.  I've been playing hockey since I was six years old and involved in many ways over the years. I love the game." Paul noted.
Paul Glavine has been a hockey player for over 45 years, a volunteer and coach in his home community of Grand Falls-Windsor.  However, it was his instrumental role in resurrecting senior hockey in the community that earned him induction into the Hall of Fame's Builder category at a ceremony this past Saturday at the Civic Centre in Corner Brook.
In 2001, Paul was instrumental in the rebirth of the Grand Falls-Windsor Cataracts Hockey Club. He was the founding member and served as the President for ten years. He then moved into the Director of Operations of the club for six years having several stints as both an assistant and head coach.
Craig Tulk, Executive Director at Hockey NL, grew up with Paul and noted that he was well worthy of the recognition.
"Paul helped build a senior hockey team that went on to play in four Allan Cup Canadian senior hockey semi-final games, eventually winning the Canadian championship in 2017.  The Allan Cup has only been won by two other teams in the history of Newfoundland and Labrador."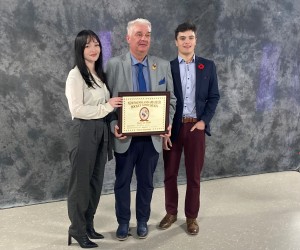 Paul also led the Cataracts to an astonishing five Herder Memorial Championships.  His coaching record with the team was 106 wins, 44 losses and 9 overtime losses.
Tulk noted that Paul was largely responsible for attracting quality players to the team and making the game an experience for the whole family to enjoy.
"The quality of players that joined the team in his twenty-year tenure was a true testament to his ability to attract and build great hockey teams.  Fan attendance, partnerships, sponsorships… going to a Cataracts game in Grand Falls-Windsor was more than just a game, it was a community event, entertainment like no other."
Congratulations to Paul Glavine on his dedication to sport, and community.